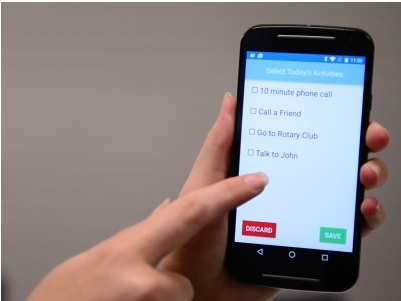 Dr Caitlin Brandenburg's award-winning research is certainly something to get people talking.
The University of Queensland School of Health and Rehabilitation Sciences pioneer will soon begin testing a second version of CommFit, an app-connected device that encourages stroke survivors to speak more frequently.
"By measuring vibration through the collarbone using an accelerometer, we can tell how much the wearer has talked throughout the day," Dr Brandenburg said.
"It's essentially a language pedometer that is paired with personalised tasks to assist people to get better at conversation, and also more involved and engaged with their community.
"The idea is based on principles of neuroplasticity, being that as the brain repairs after damage you want to repeatedly practise the skills you want to improve.
"A lot of current speech rehabilitation methods revolve around naming pictures or singular tasks, which isn't directly transferable to everyday conversation like CommFit is."
CommFit – short for Communicative Fitness – is primarily targeted at people living with aphasia, an impairment of language production and comprehension that affects 80,000 Australian stroke survivors.
Dr Brandenburg said the refined CommFit pedometer, based on an earlier trial version, was more accurate, easier to wear, had longer battery life, and was more reliable and affordable.
"Our aim is to continue to develop it so it is as small as possible, as simple as possible and as affordable as it can be made."
Early career researcher Dr Brandenburg, 26, has received encouragement on several fronts. She has won a $15,000 UQ Collaboration and Industry Engagement Fund grant; National Heart Foundation Vanguard and National Stroke Foundation Seed grants to develop the CommFit app; was a top-10 finalist for the Queensland Fresh Science competition; and her abstract on CommFit won the Stroke Society of Australasia Nursing and Allied Health Scientific Award.
UQ Collaborators on the CommFit project are Professor Linda Worrall and Professor Dave Copland.
Dr Emma Power of the University of Sydney and Dr Amy Rodriguez of the Center for Visual and Neurocognitive Rehabilitation (USA) are also involved with CommFit.
Media: Dr Caitlin Brandenburg, c.brandenburg@uq.edu.au, +61 0412 316 527; Robert Burgin at UQ Communications, r.burgin@uq.edu.au, +61 7 3346 3035, + 61 0448 410 364.