Congratulations to CRE's Dr Natalie Bradford and Dr Liam Caffery on receiving Best Paper Awards at the Successes and Failures in Telehealth conference. 

The CRE team for small rural hospitals travelled to Dalby, Chinchilla and Miles to assess telehealth awareness within the community. 
Author: Natalie Bradford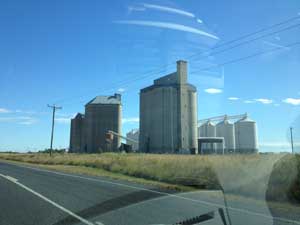 On a recent road trip out to the regional areas of Dalby, Chinchilla and Miles, the CRE team for small rural hospitals set out to understand the local communities' awareness of telehealth.  The team was treated to unseasonably warm weather with bright blue skies.  The lack of rain was evident out west, and most fields were bare- presumably yet to be planted. We were pleasantly surprised at how readily the locals engaged with us, stopping to say hello and answer our questions about access to health services and telehealth. While some people had heard of, and even used telehealth, others were quite unaware of what it was. 
               "Is it a new TV show? Like ER?"
               "Is it something to do with medicare?"
However, despite not knowing much about telehealth, once we explained how services could be provided, the people we spoke to thought it was a great option and most agreed they would like to use telehealth to access specialist care. Many of the people we spoke to had travelled regularly to access specialist healthcare and the majority reported high costs associated with travel. 
Over three days we interviewed almost 50 locals, feasted on generous  servings which came with friendly country hospitality at the local cafes and pubs, and covered 1000's of kilometres. On our next planned trip, we intend to survey patients in general practice waiting rooms to gain a more in depth understanding of the issues people face in this particular region of Queensland, including their willingness to pay for services including telehealth.  
Dr Nigel Armfield's study "Telemedicine - A Bibliometric and Content Analysis of 17 932 Publication Records" generated some media attention in South Africa at the University of Kwazulu Natal. Read more>>